Alarms
Installation and Repairs
Protect Against Unwanted Intruder's with a Burglar Alarm System.
Whether it's for your business premises or home, here at AllSecure we can create a burglar alarm system that is perfect for your needs.

You can rest assure that any alarm system we create for you will use the latest technology to provide the best security possible against intruders. Our systems are proffesionaly installed to ensure they remain functional for the long term. Our systems will alert your mobile alerting you of an alarm activation.

Here's an overview of our intruder alarm systems and services:
Wireless Burglar Alarms
Wireless burglar alarms are becoming more popular as people prefer to avoid cables. These offer the same level of security and utilise the same high quality equipment as hard wired systems. These alarms will now call you direct when the alarm is activated via your phone line or GPS.


Wireless Burglar Alarm Package
1 x PowerMax Control Panel with Autodialler
1 x External Wireless Siren
2 x Remote Key Fobs
1 x Door Contact
2 x Motion Sensors
2 x Proximity Tags
Professional Neat Installation
12 Months Warranty
FROM £462.00 (inc VAT)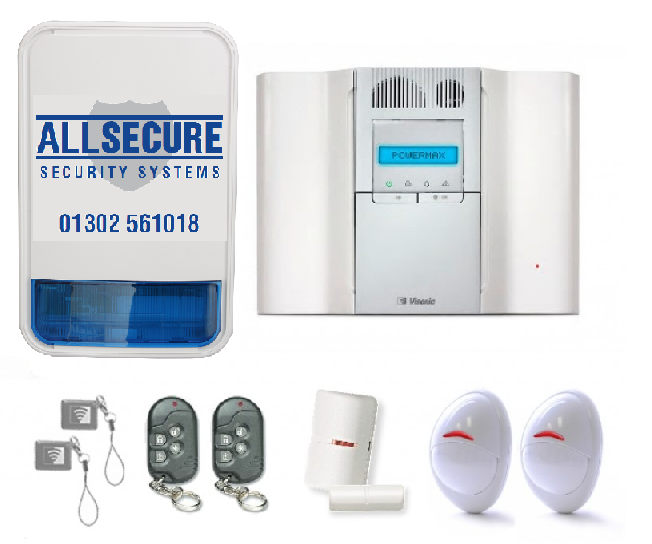 For more details of our wireless burglar alarm systems please contact us on 01302 841446
Hardwired Intruder Alarms
Our standard hardwired burglar alarms include a range of leading PIR sensors, alarm sirens and alarm systems and are perfect for both residential and commercial properties of any size. Our expert, friendly and reliable team will complete work on-time and with the minimum amount of disruption or mess.
Wired Burglar Alarm Package
8 Zone Control Panel & Keypad
1 x External Siren
1 x Door Contact
2 x Motion Sensors
1 x backup Battery
Professional Neat Installation
12 Months Warranty
FROM £450.00 (inc VAT)*
*prices can vary dependant upon wiring installation requirments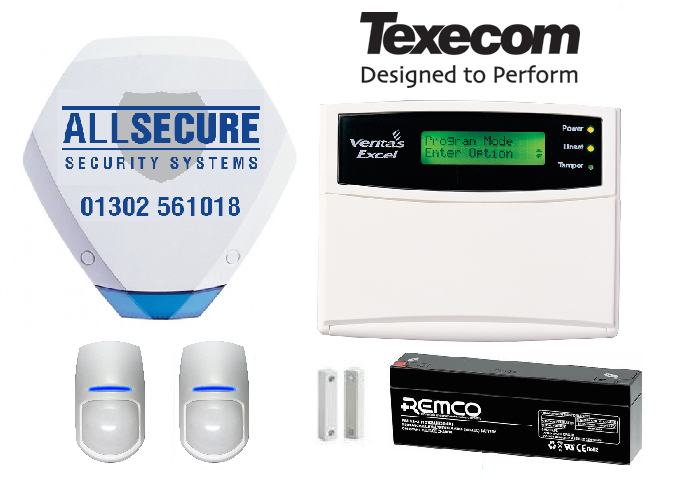 Expert Installation
Allsecure's engineers are experts in being able to carry out all installations to any type of building hiding any cables with minimum disruption and leaving no mess.
Repair Service - From £60 (inc VAT)
Faults can usually be diagnosed quickly and repaired in the first half hour (parts not included)
We provide a fast intruder alarm call out service to all burglar systems no matter who the installer or whether you have a maintenance contract or not.
In all cases our engineers will attempt to re-instate your system to full working order, but where this is not possible your system will be safely shut down. All work is guaranteed and following your repair you will be left with a written maintenance report detailing work undertaken and the receipt for any payment made.